An early Christmas present arrived to Anime NYC with an unforgettable event hosted by Aniplex of America, featuring Aoi Koga (voice of Kaguya Shinomiya), Yuichiro Kikuchi (A-1 Pictures producer), and Tatsuya Ishikawa (Aniplex producer) on November 19, 2022.
The event opened with a surprise message from creator Aka Akasaka, followed by the season 1 opening theme "Love Dramatic" by Masayuki Suzuki featuring Rikka Ihara, while over 2,000 attendees sang along. Thunderous applause erupted as the guests arrived on stage one-by-one as the panel kicked off with a greeting from Aoi Koga in English!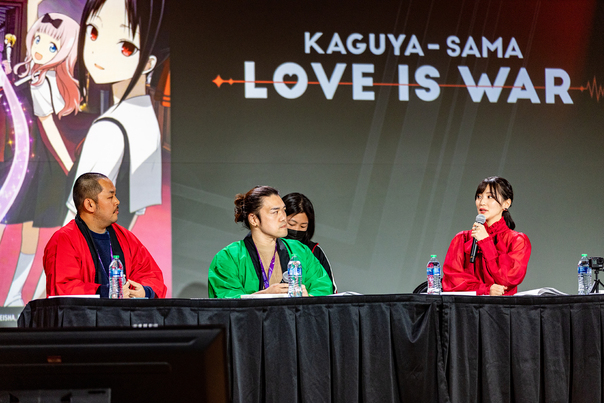 As Aoi Koga and the producers looked back on the three seasons of
Kaguya-sama: Love Is War,
fans were treated to numerous behind the scenes stories, including Aoi Koga's first time meeting Kaguya Shinomiya, how Masayuki Suzuki got involved in the series, and the unusual way Vercreek was tasked for the season 3 Episode 5 ending theme.
Fans were also treated to a few more surprises with special video comments from the cast of
Kaguya-sama: Love Is War,
as they discussed their favorite moments from the series, along with what they loved most about their characters. Each cast member also shared a few words of encouragement (and a few souvenir requests) to Aoi Koga for her first solo trip to the Big Apple.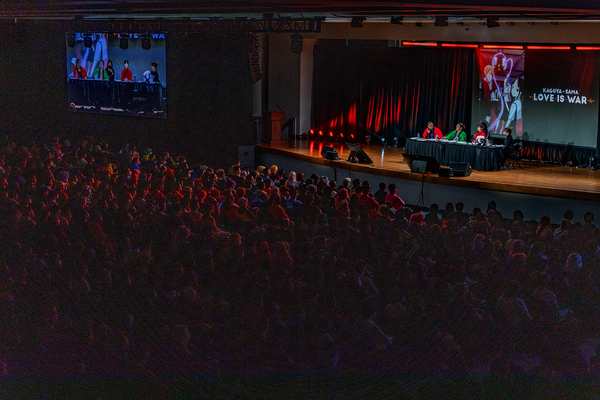 The event ended with a fitting gift to Aoi Koga from Aniplex of America – an official Stanford sweater.
For a limited time only, you can watch the archive of the panel:
https://youtu.be/1siP6z10eT4
In the exhibit hall, the exclusive Christmas version of the
Kaguya-sama: Love Is War
characters could be seen at the Aniplex of America booth's special Christmas window!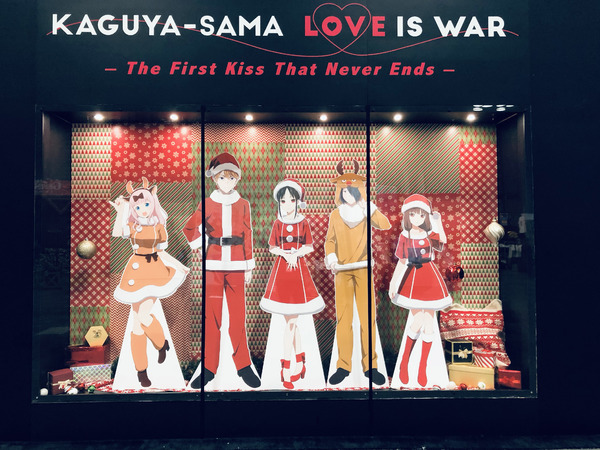 Cosplayers and fans could be seen snapping photos all weekend in front of the window with the festive Shuchiin Academy student council members.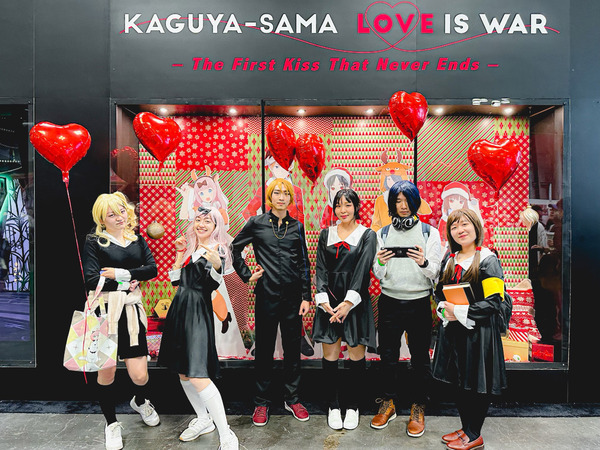 Can't wait to see the movie? You won't have to wait too long as
Kaguya-sama: Love Is War -The First Kiss That Never Ends-
arrives in select theaters in the U.S. in February 2023!